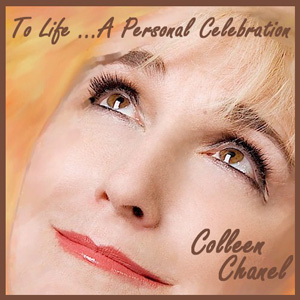 To Life…A Personal Celebration
This Cd is the first of 3 purposeful conscious music CDs to be released in 2008 … the year of new beginnings and renewed possibilities. Individually, each CD will be an original expression of the artist's insights, values,and wisdom reflecting the truth of Colleen Chanel's current life's journey. She has intuitively chosen the ancient "Power of Three" … 3 unique CDs … 3 personal life themes … 3 original songs per album. There is a magical secret about the number 3. Throughout global history, culture and metaphysical philosophy, it is known as a sacred powerful energy. Simply, the moment you experience one & two, you have three which is the relationship between them. This mystical "Third Force" may appear to be meaningless and invisible but it is the Divine Power that makes all the Difference.
Colleen Chanel soulfully sings with great depth, passion & joy her new original trio of very personal reflective songs. The contemporary music & lyrics are a masterful blend of inspiring Celtic, Spiritual and Positive arrangements showcasing Colleen's distinctive signature style of beauty, intimacy & grace.


$6.99 + shipping